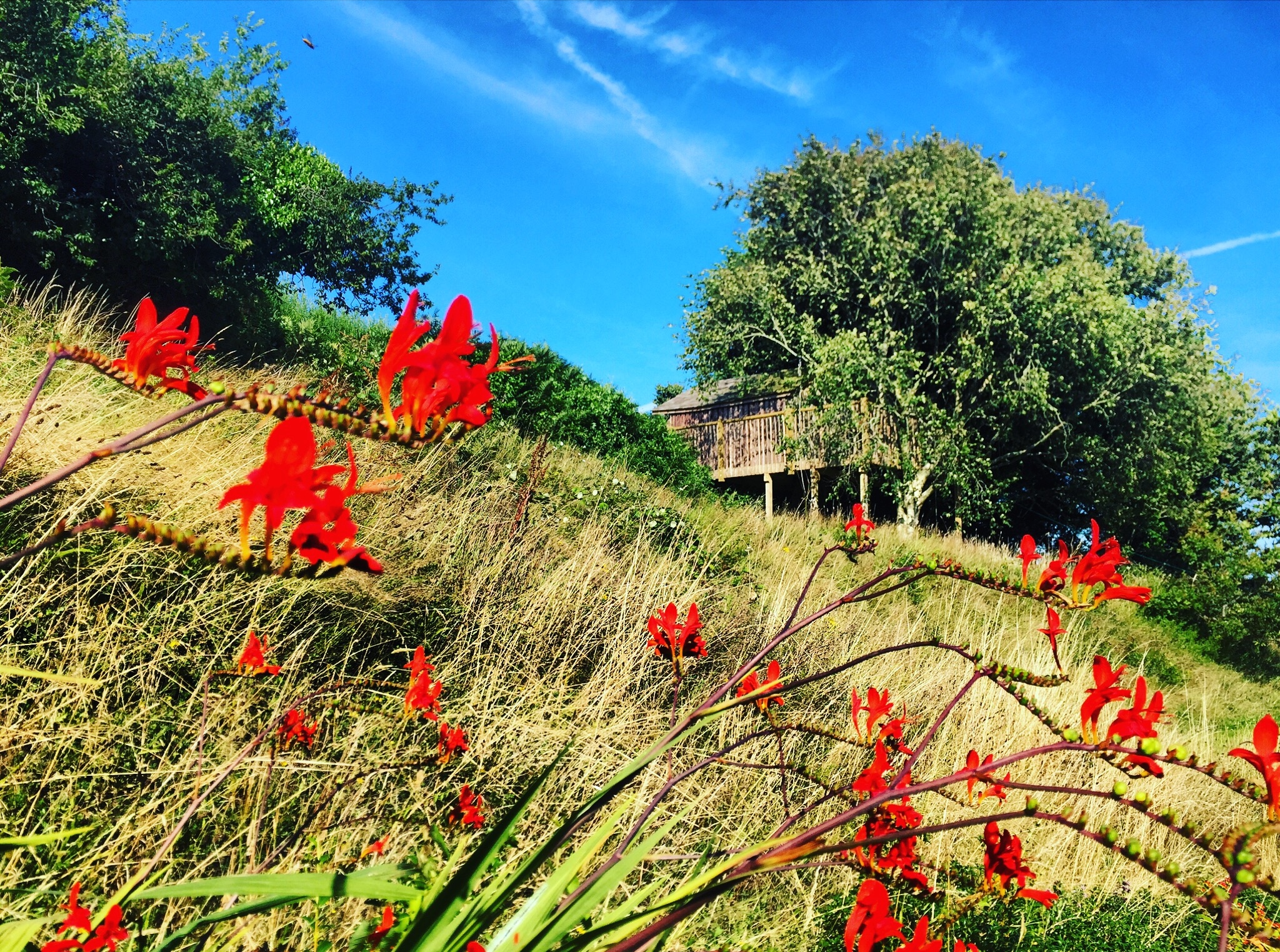 SEE WHAT PEOPLE ARE SAYING ABOUT THE TREEHOUSE
"I would have no hesitation in recommending the Treehouse"
Since we were the very first guests at the Treehouse, we talked a lot with Freya about the little extras that would make our stay even more comfortable. The family were so helpful and hospitable; I would have no hesitation in recommending the Treehouse to friends. It was a fun place to be and we enjoyed our walks into Salcombe. I particularly liked the location - Working farm environment, Friendly, helpful and hospitable hosts
Gordon, July 2016
"Very comfortable"
This is a nice place to stay, and the surrounding area is gorgeous - Salcombe is a beautiful town to wander around and enjoy an ice cream and a boat trip. Felicity and Charles are both very nice, and you can meet the horses and other animals on the working farm. Felicity and Charles, you were very lovely, and made me feel welcome. I enjoyed the little space on the decking to read and enjoy the twinkly lights, the bed was very comfortable and the shower was great.
Ruth, July 2016
"We had a great time"
We had a great time in the Tree House.The open plan space has been beautifully designed with great attention to detail and nice little touches to add a really homely feel. Perfect for a romantic weekend away, with a very well fitted out kitchen area with everything you need and a nice selection of essentials waiting for you including a bottle of Prosecco! The location is about a 20 minute walk from the centre of Salcombe which was great as it meant you could get away from the busyness at the end of the day. Very welcoming hosts and great communication throughout.
Helen, July 2016
"We were made to feel really welcome"
I grew up in the area but this listing still opened my eyes to new beautiful areas and eateries in the locality of the property. We were made to feel really welcome on arrival and throughout our stay. The accommodation is a great little cubby hole hide away. We weren't lucky with the weather but enjoyed sitting inside listening to the rain on the roof and playing cards. The kitchen is really exceptional and everything is done to a really high standard from the bedding to kitchen utensils. I loved the attention to detail. Thank you for the staycation.
Joanna, August 2016
"So beautifully done"
We had a lovely long weekend in this tree house, just a short walk from Salcombe village yet very much in the countryside, its a great location! The tree house is kitted out to a very high standard, with everything you would ever need. Felicity our host, was very welcoming, and very quick with all communication, thank you for a lovely stay, no doubt we will back! We love your tree house, so beautifully done, thank you!
Caroline, August 2016
"Sweet and cosy"
Felicity and her daughter were very welcoming and helpful. The tree house was sweet and cosy and had great attention to fittings and detail. A lovely quiet spot to stay.
Carole, August 2016
 
"Everything you could ever need"
Freya (Felicity's daughter who effectively runs the Tree House) was most attentive on arrival and keen to get feedback on departure. Having only been in operation this season, a lot of care and attention to detail had been applied, which made it a most comfortable and enjoyable stay. It has everything you could ever need; WiFi, plentiful hot water, cooker, hob, fridge, wine cooler, spacious shower, comfortable bed, the list goes on. Outside you have three separate seating areas, a fire pit, and lighting which ranges from purely safety to the romantic. We would love this to remain our secret hideaway, but Freya's efforts deserve sharing with others, who we feel will love it just as much. A most enjoyable few days in a delightful tree house; we will return.
Kevin, August 2016
"Great, fun, interesting property"
Wonderful views of the countryside and perfect location to walk into Salcombe! Would have loved to have stayed longer and will certainly be back to stay soon. Felicity and her daughter Freya we perfect hosts.
Richard, September 2016
"The room was beautiful"
A great stay with Freya and Felicity in the tree house :) the room was beautiful and the setting was peaceful. Welcoming hosts and a lovely experience - wish I could have stayed longer!
Helene, September 2016
"Rustic with luxurious touches"
We have just had a fabulous couple of nights at The Treehouse. Such a lovely spot and very welcoming hosts. Freya dealt with our arrival, such a lovely & genuine person. The accommodation was exactly what we wanted, rustic with luxurious touches within walking distance of Salcombe. All at an affordable price point, unlike some others! Thank you for making our first mini break away from our son so memorable. We will definitely be back, hopefully sooner rather than later!
Deborah, September 2016
"Such a relaxing place"
Its beautiful, such a relaxing place with the most comfortable bed i've ever had the pleasure of sleeping in! The walk into town is nice. I would highly recommend staying in the tree house, its such a novelty.
Federika, September 2016
 
"Would recommend to anyone"
We had a fantastic stay at the Tree House. The accommodation exceeded expectations and the location was great - secluded but within walking distance of town. Felicity was easy to deal with and the breakfast baskets were a nice touch. Would recommend to anyone staying in Salcombe.
John, September 2016
"Lovely and unusual experience"
This was a really lovely and unusual experience. It was peaceful and exactly what my husband and myself needed. The Treehouse was well appointed; fab shower, coffee machine, fire pit and 3 areas to sit outside for different views. We managed to see the milky way on the second night as the sky was clear and there is no light pollution. You can order a fresh breakfast delivered to your door, which we decided to do the first morning. Even though the kitchen is petite the equipment is pretty state of the art - great hob and oven, so all easy to cook - lovely to sit outside and eat brekkie getting ready for a walk into Salcombe. The town is great, lots of shops and places to eat! I loved being in nature and a well thought out space, finished to a high spec.
Carol, September 2016
"Will definitely be coming back!"
Fabulous stay in the Treehouse! Such a lovely family to welcome us in Felicity and Freya. the recommendations book was extremely useful and we feel like we've made the most of our weekend stay in the area. The treehouse is so well equipped and very luxurious. Will definitely be coming back! I love that it's a Treehouse.
Gabby, September 2016
"The perfect getaway"
This property is the perfect getaway for a couple who want a 'premium glamping' experience. It is warm, clean and charming. Care has been taken to provide facilities that add value to a stay in an unusual property e.g. a proper bathroom with an excellent shower, a well equipped kitchen and a comfortable bed. It benefits from being located away from the main farm buildings and having its own private pedestrian exit to the road. Highly recommended for those who want to try something different without sacrificing on comfort. Excellent property, constructed and furnished with obvious attention to detail.
Fahy, September 2016
"Perfect couples retreat!"
My fiancé and I recently enjoyed a lovely relaxing stay in The Treehouse. We were looking for somewhere a bit different to get away from the stresses of work for a few days and The Treehouse definitely delivered! Felicity was very prompt with all her responses which made planning the getaway very easy. Freya was there to greet us on arrival and The Treehouse was ready and perfectly presented. It had everything we needed and more and I just loved the idyllic setting. We enjoyed Autumn walks straight from The Treehouse and ventured into Salcombe a couple of times which only took about 20 minutes on foot with picturesque views along the way. Felicity and Freya's recommendations also came in handy throughout our stay and made sure we enjoyed plenty of amazing food! I couldn't recommend The Treehouse enough for a perfect couples retreat! Thank you Felicity and Freya for your excellent hospitality.
Jen, October 2016
"The perfect spot for a weekend away"
We loved the Tree House. It was the perfect location for our children free weekend. Would definitely recommend and hope to come again. Thank you.
Kerry, October 2016
"Perfect location for our honeymoon!"
The Treehouse is so amazing! The most perfect location for our honeymoon! Thank you so much! Xxxx
Davina, October 2016
"Absolutely amazing place!"
We only got to stay for one night and arrived late in the pouring rain, but it was still incredible. Lovely host, perfect scenery and an immaculate tree house! We'll definitely be staying again!
Jack, October 2016
"Everything we hoped for and more"
A wonderful stay. If you want an idyllic break in the countryside, then this is the place to go. Cosy, warm and hosted by a lovely family, the tree house was everything we hoped for and more. Freya, You were wonderful! Thank you for such a lovely stay! Good luck with the new builds!
Jamie, October 2016
"The tree house is enchanting"
"What a find!! This tree house is utterly enchanting, as are the hosts Felicity and her incredibly helpful and informative daughter Freya, it was made clear to us upon arrival that if we needed anything, we were not to hesitate in asking…all well and good, but there was nothing to ask for!
The beautifully crafted building is immaculately presented within a perfect blend of fantasy, comfort and high tech practicality. Attention to detail is key here, the kitchen area is fitted to an extremely high standard as is the bathroom...the large shower area affording rain forest bliss! The lighting, which is an area so many people get wrong, has been thoughtfully considered and although abundant, it is gently versatile, never stealing the magical ambience. The bed and its bedding are totally sumptuous, big billowy pillows and crisp, white linen. Divine.
Outside there were various seating areas, all lovely with good furniture. We loved the wooden steamer loungers, which were positioned to take in the breathtaking view over the rolling hills to the creek beyond. Sadly there was not enough time on this visit to cook outside on the super fire pit provided, a must next time. We so enjoyed being shown around the beautifully kept yard and being introduced to the very pretty resident Dartmoor ponies, most of which are aptly named after local coastal landmarks. It was great to be able to walk from our front door into Salcombe as driving into the town is to be avoided. Felicity has left no page unturned, and this is one of the most unique and loveliest places we have stayed within the British Isles.
We intend to visit again in October...looking forward to being cosy in front of the woodburner after a few days hiking the glorious coastal path. 10\10. Loved everything."
Dilly, August 2016
"The Treehouse was amazing"
I recently took my girlfriend here as I surprised her for her Birthday, she said it is the most romantic thing I have ever done. The Treehouse was amazing and lived up to, beyond all expectations and reviews. It's equipped with everything you could need and more the showeroom is especially impressive; underfloor heating was a pleasant surprise. When we arrived at The Treehouse Freya was really welcoming and explained everything we needed to know about working the tech in The Treehouse. We were also provided with a folder containing information on The Treehouse, but also on local restaurants and things to visit. We chose to have the Full English Breakfast option on the first day and Freya hoisted us up the basket of ingredients in the morning everything was so well presented with heart shaped butter, hand wrapped sausage and bacon, fresh mushrooms, a rustic looking bottle of fresh orange juice perfection!! On the second day we opted for the continental breakfast, which was hoisted up to us by Felicity, this include fresh milk, cereal, croissants, assorted jam, heart shaped butter and two hot pain au chocolate. It smelt amazing!! We used the firepit on the first night under the stars, whist playing monopoly. Freya brought us complimentary kindling, which was much appreciated. On the second day we took a walk through salcombe town center and along the estuary, which offers spectacular views with beaches speckled along the coastline. All in this entire trip turned out to be amazing. Freya was very welcoming and informative. Definitely worth checking out this amazing Treehouse. Build more Treehouses!! Thank you for everything!
Dale, November 2016
"Unique place to spend a few quiet nights"
The tree house is a fantastic and unique place to stay. We have just enjoyed three nights in this wonderful location and were made to feel incredibly welcome from the minute we arrived. We would highly recommend this as a place to stay if you want something a bit different, in a quiet and beautiful part of the country. Felicity and family, we have just had a fantastic stay at the Treehouse, and will definitely return and recommend it to others. From the warm welcome from Freya, to the complimentary prosecco and a unique place to spend a few quiet nights, this was a real find and for that, we are very grateful! Thank you
Frances, November 2016
"It felt like home!"
Freya (Felicity's daughter) was very helpful and extremely welcoming. Our stay was as good as I expected and I would happily stay again – Thank You. I loved that it felt like home!
Archie, November 2016
"Beautiful, cosy and romantic"
I can not speak higher of the tree house and the hosts! Highly highly recommended!! The tree house is beautiful, cozy and romantic. My boyfriend and I had such a wonderful relaxing time together. There are towns nearby to have lunch or dinner, very quick to get to. Freya left us a bottle of prosecco as we had a long drive and it was just a great start to the holiday. I can't even tell you how good the croissants are from the continental breakfast... Absolutely sublime! Freya was a wonderful host and introduced us to her newest addition to the farm family, he is just adorable! We will definitely be back!
Sarah, November 2016
"Felt like a real adventure"
Had an amazing stay at the Tree house. It was perfect. The hosts Freya and Felicity were so helpful and friendly and really made us feel welcome. The tree house is beautifully and tastefully decorated and it was an absolute pleasure to stay there. The electric fire kept us lovely and warm and the bedding was luxurious . Felt like a real adventure, much more fun than staying in a regular hotel or B&B. It was unique and such a beautiful environment to be in. Would highly recommend.
Michelle, December 2016
"Cosy and magical"
What a memorable experience. The Treehouse was very cosy and magical. The communication even before getting to the location was excellent from Freya and Felicity any questions I had were quickly answered. The breakfasts were sublime and we were excited when the basket arrived. It was a lovely walk into salcombe with amazing scenery. I would definitely return and have already suggested the treehouse to family and friends. Thank you both so much for helping me make a very special birthday for my boyfriend. There was nothing I would change it was an amazing couple of days and would love to come back one day. Thanks again
Abi, December 2016
"A great base from which to explore"
Spent a one night break at the Treehouse and it was great. The uniqueness of the accommodation was fun but the quality of the finishes was very good, and it had everything you need for a one stay and more, with a really well equipped kitchen. The location is only a 5 min drive/20min walk from Salcombe, so its a great base from which to explore the area from. Will definitely book again if down in the area!
Alistair, December 2016
"They've thought of everything!"
I stayed here with my boyfriend to celebrate our anniversary and the hosts were very welcoming. Freya helped us get our mini up near the treehouse so we could unload our stuff, and gave us all the information we needed to have a comfortable stay. Lovely location and very romantic, would recommend staying here - we repeatedly said the words 'they've thought of everything!' They'd managed to fit a lot of conveniences into a compact space. Will come back if we're in the area. It was beautiful, thanks for letting us stay. Very quiet and everything was easy to use - no problems.
Gillian, December 2016
"Beautifully crafted and thoughtfully designed"
What a lovely, special, fun stay this was - thank you Freya for being a great host, and for sharing your great little spot which has been so beautifully crafted and thoughtfully designed. We loved it and are sure many others will too! Freya, Thank you so much for our stay - and for showing us around your new project - we'll definitely consider it for our future family events. We hope you keep going even with everything, as you really have something very special there - hence all of the anniversaries and engagements I suppose! Thank you for a lovely few days Ala and Adam :)
Adam & Ala, December 2016
"Would definitely recommend the breakfast"
The Treehouse is perfect and has everything you would need. It is cosy and clean and in a lovely area of the country. Would definitely recommend the breakfast. Be sure to bring a torch if you plan to walk into Salcombe (20 minute walk), which we would also recommend. A perfect stay in the tree house and we will be back in the summer. Thank you for letting us stay - we had the best time. Everything was perfect.
Beth, December 2016